25 February 2015

From the section

Africa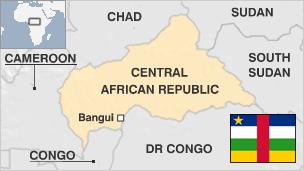 The Central African Republic (CAR) has been unstable since its independence from France in 1960 and is one of the least-developed countries in the world.
It has endured several coups and a notorious period under a self-declared emperor, Jean-Bedel Bokassa, who headed a brutal regime.
The Bokassa era ended in 1979, when he was overthrown in a coup led by David Dacko and backed by French commandos based in the country.
After just two years in office Mr Dacko was toppled by Andre Kolingba, who eventually allowed multi-party presidential elections and was duly rejected in the first round.
Mr Kolingba's successor, Ange-Felix Patasse, had to contend with serious unrest which culminated in riots and looting in 1997 by unpaid soldiers.
When in that year the French pulled out, there were fears of a power vacuum, so Paris financed a group of French-speaking African countries to create a peacekeeping force.
In 1999 Mr Patasse beat nine other candidates to become president again, but there were allegations of electoral fraud. He was overthrown in a coup in 2003 and went into exile in Togo.
Illegal weapons proliferate across the CAR, the legacy of years of unrest. The unrest has displaced tens of thousands of Central Africans; many of them have crossed the border into Chad.
Some progress towards stabilising the country was made between 2008 and 2012, before the new Seleka rebel alliance marched south and captured the capital in March 2013, ousting President Francois Bozize.
The country descended into ethnic and sectarian violence, with thousands of people fleeing their homes and the UN warning that there was a high risk of genocide.
French troops returned, and the UN took over and expanded the African peacekeeping mission September 2014. Aid and human rights organisations warn that these measures may be unequal to the task of restoring order.
The CAR possesses considerable agricultural, water and mineral resources. But corruption is rife and undermines the timber and diamond industries.
The country is endowed with virgin rainforests and has some of the highest densities of lowland gorillas and forest elephants in Africa.