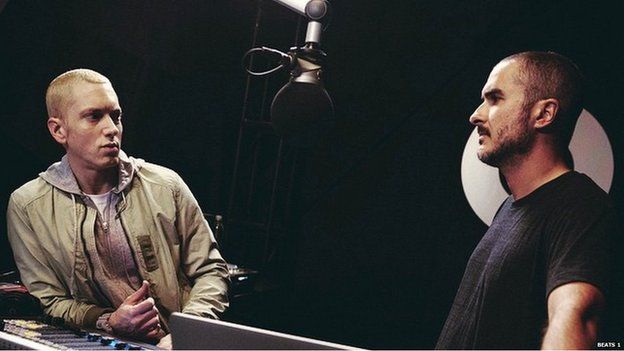 Apple's Beats 1 radio station has launched with Zane Lowe presenting the first show from Los Angeles.
Lowe premiered Pharrell's track Freedom and played City by Manchester band Spring King as his first song.
It is Apple's first venture into radio and is seen as a way for the company to market its Apple Music subscription service.
Drake, Pharrell and Sir Elton John will also host shows, alongside Dr Dre, St. Vincent, Disclosure and Josh Homme.
Lowe introduced Spring King by saying that their music was about "quality and consistency… from now on, we're always on."
Fans had to update their Apple products to operating system iOS 8.4 to hear the station, leading to many posting pictures of themselves on social media waiting for the upgrade to download.
On Wednesday's show Lowe will play his first interview, a pre-recorded interview with the rapper Eminem.
Former Radio 1 DJ Zane Lowe is one of the service's three main DJs, along with ex-Hot 97 host Ebro Darden in New York and Julie Adenuga in London.
Dr Dre, who co-founded headphone firm Beats, will host a show called The Pharmacy.