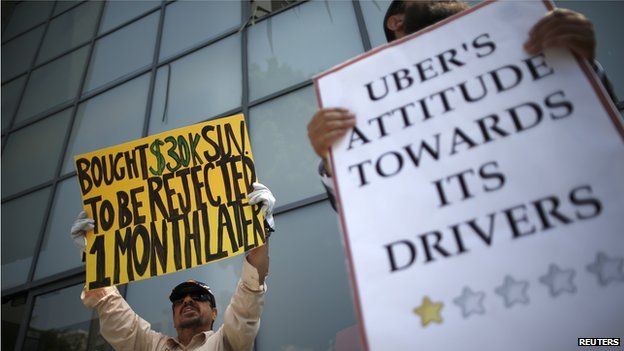 Uber drivers are employees not contractors, a US court has ruled, in a move that could mean higher costs for the app-based taxi service.
The decision by the California Labor Commission, which was filed in a state court, disputes Uber's previous claims that its drivers are contractors.
It could mean extra costs such as social security, compensation and unemployment insurance.
There could also be implications for firms with a similar business model.
Uber is "involved in every aspect of the operation", according to the ruling, which was sparked by a San Francisco-based Uber driver.
The company is now appealing against the award of $4,000 (£2,544) in expenses to the driver, Barbara Ann Berwick.
The California Labor Commission said Uber would not exist without drivers like Ms Berwick, and that the company depends on the drivers' work.
Uber has been arguing that is a "software platform" that "matches customer demand with supply".