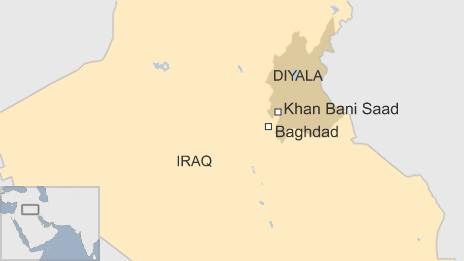 A car bomb has killed at least 40 people at a busy market in an Iraqi town, officials have said.
Some reports from Khan Bani Saad, near Baghdad, put the toll much higher. Children were among the dead.
The explosion came as people celebrated the end of the Muslim holy month of Ramadan. It was so powerful that it brought down buildings, police said.
The Islamic State (IS) group, who control swathes of the country, has said it was behind the attack.
A statement from the group said one of their members drove three tonnes of explosives into a crowd.
Police major Ahmed al-Tamimi, told the agency the damage was "devastating".
"Some people were using vegetable boxes to collect body parts of kids' bodies," he said.
The Diyala provincial authorities have declared three days of mourning and cancelled Eid al-Fitr festivities.
IS militants are battling government forces in the north and west of the country.
The group captured parts of Diyala last year, and although it was later driven out it still has a presence there.