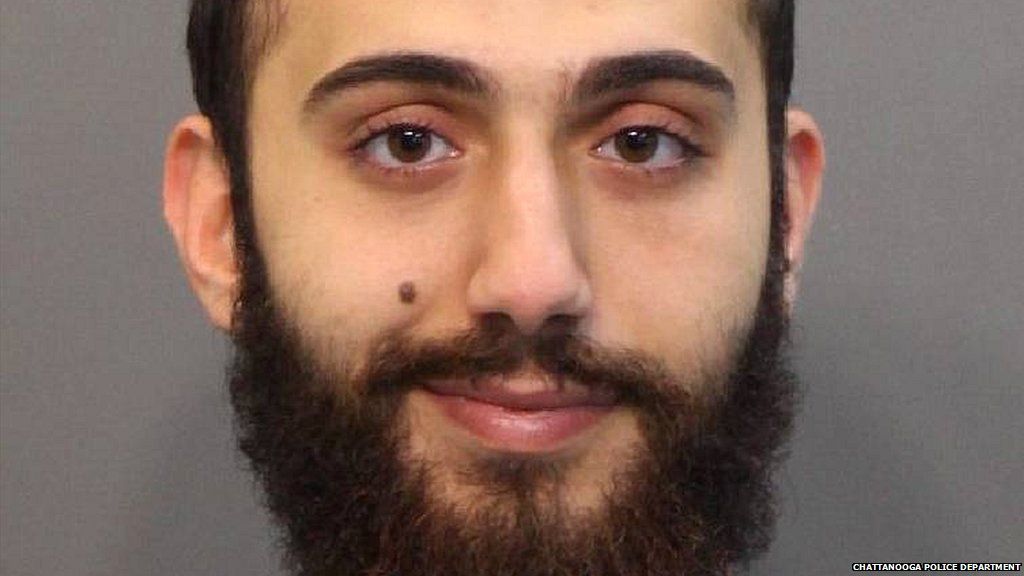 US police have been searching the house of a 24-year-old man who was killed after shooting dead four Marines in Chattanooga, Tennessee.
The attacks at two US Navy sites on Thursday morning were being investigated as an "act of domestic terrorism", said a district lawyer.
The FBI has said it has no indication of what Mohammad Youssuf Abdulazeez's motive was at this stage.
A female sailor remains in a serious condition in hospital.
Two others were also injured.
Police have sealed off the area around the house in which the gunman lived as they attempt to piece together what led to the attacks.
Eye-witnesses said two women were led away from the house in the Hixson suburb of Chattanooga in handcuffs.
Mohammad Youssuf Abdulazeez: 'Life is short and bitter'
The FBI has said it has no indication that Abdulazeez was linked with any international terrorist organisations or that others were involved.
FBI agent Ed Reinhold told a news conference the gunman initially fired from inside his Ford Mustang at about 10:45 local time (14:45 GMT) at a US Navy recruitment centre in the east of the city.
He then drove to a US Navy reserve centre about seven miles (10 km) away where he got out of his car before fatally shooting the Marines.
He was shot dead on Amnicola Highway.
President Barack Obama said the attack was "heartbreaking".
Analysis: By Gary O'Donoghue, BBC News, Tennessee
The investigation is still at an early stage, but it appears that Muhammad Youssef Abdulazeez was acting alone. What made him do what he did will be the subject of intensive inquiries that will delve deep into his past and that of his friends and family, and into his state of mind.
But lone wolves, as such men are often described, are the hardest to stop.
Both the president and the head of the FBI have recently underlined this problem and called on local communities to be vigilant for the signs of any radicalisation.
It is also hard for the authorities to protect all potential targets. The first location at which Abdulazeez began firing was an army recruitment office, in the middle of a strip mall, flanked by a mobile phone shop and an Italian restaurant – in other words, firmly within the local community. Many will not want the military to retreat completely behind barbed wire and concrete barriers.
A blog that Abdulazeez wrote was monitored by the SITE Intelligence Group which checks on extremist activity, and could provide a useful lead for investigators.
In a post written on Monday, he said, "This life is short and bitter" and that Muslims should not let "the opportunity to submit to allah… pass you by".
Abdulazeez is believed to have been born in Kuwait, but has lived in the US for several years.
He was arrested earlier this year in Chattanooga for driving under the influence of alcohol.
But officials told AP that Abdulazeez was not known to federal law enforcement before the attacks.
He left this message in his school yearbook: "My name causes national security alerts. What does yours do?"
A statement from the US Department of Homeland Security said it was "enhancing the security posture at certain federal facilities, out of an abundance of caution".
Recent incidents at US military recruitment centres
December 2010: Muhammad Hussain planned to detonate a bomb at a centre in Catonsville, Maryland, but the plot was foiled by FBI.
June 2009: Abdulhakim Muhammad carried out a drive-by shooting outside a centre in Little Rock, Arkansas. One person was killed and another was wounded.
March 2008: Unnamed bombers set off explosives near a Times Square centre in New York City. No one was hurt in the blast.