17 July 2015

From the section

Europe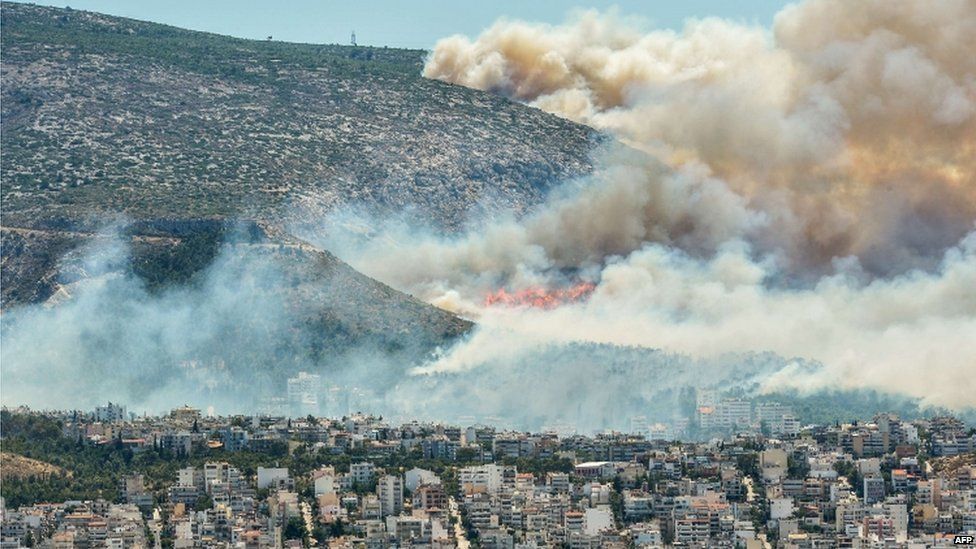 Firefighters in Greece are battling wildfires on the eastern outskirts of Athens, and more fires in the southern Peloponnese peninsula which have forced villagers to flee.
The blaze outside the capital spread quickly on a hillside and blanketed parts of the city in thick smoke.
Crews fought to keep the flames away from nearby residential areas.
Separately, several villages were evacuated in the Peloponnese as wildfires burned through rural land.
The flames, near the town of Monemvassia, forced one fire-fighting aircraft to make an emergency landing, according to reports.
"It's hellish right now, there are hundreds of pockets of fire," Iraklis Trichilis, mayor of the town of Monemvassia, earlier told Skai television.
The fire outside Athens, fanned by strong winds, burned through woodland on Mount Hymettus, forcing some residents to flee their homes, Greece's Kathimerini newspaper said.
Although forest fires are not unusual in Greece, local media say these are bigger than in recent years.