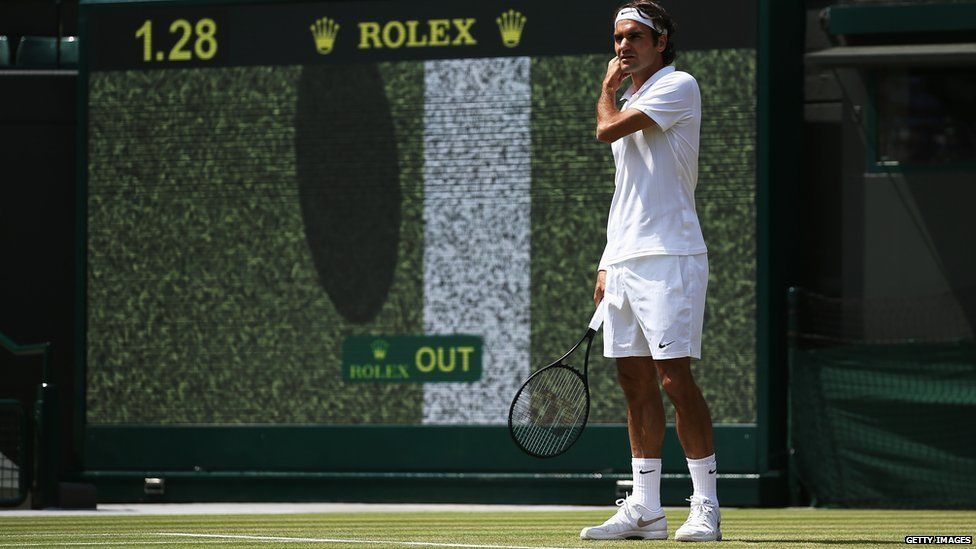 Hawk-Eye, which detects where the ball has landed, is being used for the ninth time at Wimbledon. Why are some tennis players better than others at using it to challenge umpires, asks Harry Low.
The five-second wait for a decision only adds to the drama. Although Hawk-Eye isn't yet as firm a fixture of Wimbledon as strawberries and cream, it has won fans over, if not all of the players. Roger Federer has repeatedly berated the technology. In the first year it was used, he let rip at the umpire in his win against Rafael Nadal, blaming the electronic system for "killing" him.
Some arguably make better use of the system than others. Heather Watson overturned six decisions out of 13 challenges. By contrast, Victoria Azarenka made it to the quarter final of this year's competition without once correctly overturning a decision. She incorrectly challenged 12 times before being knocked out by Serena Williams.
Not all stadia are equipped with the 10 tracking cameras needed to measure the results. Since 2006, players on matches on "show courts" have been able to make up to three (incorrect) challenges per set to a line judge's decision plus one extra during a tie break. On average almost one in three calls is overturned.
Most successful Hawk-Eye challengers (Minimum of four challenges)
5 out of 7 Denis Kuda

3 out of 5 Gael Monfils

6 out of 12 Marcos Baghdatis

5 out of 10 Luca Vanni
Thinkstock
(Correct at close of play, 9 July)
A study of the use of Hawk-Eye at ATP tournaments in the 2006-7 season showed the overall success rate for challenges was 40%. At this year's tournament, just over a quarter of decisions were overturned (26%).
Andy Murray, Roger Federer and Novak Djokovic were among six Wimbledon 2015 players who were part of that study. Between them, the six successfully challenged 31.5% of calls, which is higher than the overall average but down from a success rate of 37.3% in 2006-07.
George Mather, professor of vision science at the University of Lincoln, carried out that analysis. The success rate of players who play more matches tends to be more stable, he says.
It could be a matter of experience and better decisions by the line judges, argues Mather. "There are a lot of newer players each making a few incorrect challenges, who are bringing down the overall player accuracy figures."
Most successful Hawk-Eye challengers (Women – minimum of four challenges)
6 out of 10 Lucie Safarova

4 out of 7 Madison Keys

3 out of 6 Angelique Kerber

2 out of 4 Danka Kovinic
Thinkstock
(Correct at close of play, 9 July)
Hawk-Eye increases audience participation, says former professional tennis player Jheni Osman, who played at Wimbledon. "Some players feed off the crowd's excitement, while others find it adds stress and pressure, particularly if they're prone to choke."
Professional players know "99% of the time" whether the ball is going in or out, Osman explains. Rather than a players using it to dispute a call, it is used tactically by players who might wish to catch their breath after a long rally. "The downside of Hawk-Eye is how some players use it for gamesmanship to disrupt their opponent's rhythm, like some players use toilet breaks or call a physiotherapist on for a dubious injury when their opponent is thrashing them on court."
Who has made the most Hawk-Eye challenges? (women)

14

Agnieszka Radwanska (4 successful)

13 Timea Bacsinszky (6)

13 Heather Watson (6)

13 Jelena Jankovic (4)

12 Maria Sharapova (4)
Thinkstock
(Correct at close of play, 9 July)
Who has made the most Hawk-Eye challenges? (men)

31

Marin Cilic (8 successful)

20 Richard Gasquet (5)

20 Ivo Karlovic (3)

19 Andy Murray (5)
Thinkstock
(Correct at close of play, 9 July)
Subscribe to the BBC News Magazine's email newsletter to get articles sent to your inbox.