20 August 2015

From the section

UK

comments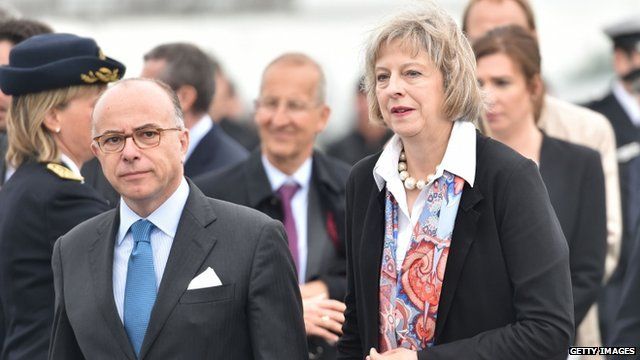 Home Secretary Theresa May is in Calais to sign a UK-French deal to tackle the migrant crisis, as plans for a "control and command centre" are announced.
It will be jointly run by British and French police to target people smugglers, the Home Office said.
Speaking on a tour of Eurotunnel security, Ms May said the UK was also in talks with Holland and Belgium about preventing migrants becoming displaced.
About 3,000 migrants are thought to be camped in Calais hoping to enter the UK
The Home Office said the joint command centre, which will also incorporate the UK Border Force, would enable greater collaboration between countries.
Each of the senior officers in charge will report to their own government. The Home Office is yet to comment on how many British police officers will be posted to Calais.
Ms May began her visit with a tour of the Eurotunnel site in Coquelles with French Interior Minister Bernard Cazenueve to inspect security measures.
There had been been "an excellent level of cooperation" between British and French governments, but wider efforts in Europe were also needed, she told reporters.
She said Britain had begun talks with Belgium and Holland, as the UK government was "very well aware of the possibility of displacement" of people trafficking operations after security was strengthened at Calais.
Security measures at other northern French ports, such as Dunkirk, are also being scrutinised, she said.
"Migrants are trying to come to Europe with organised gangs, people smugglers, trafficking people through to Europe. What we see here is a symptom of a wider problem."
Additional security
Those trying to reach Europe include some refugees and "many many economic migrants," she said.
Later on Thursday, Ms May will meet with French ministers to sign a joint deal which includes plans for the new command centre.
Other measures expected to be included in the new agreement are:
The deployment of extra French policing units
Additional UK resources to secure the Eurotunnel railhead including fencing, CCTV, flood lighting and infrared detection technology, and stronger security within the tunnel itself
A security audit carried out by specialist French and British police teams to underpin the design of the improvements.
Additional freight search teams, including detection dogs
The UK government has already spent £7m on new fencing in and around Calais, but details of the latest deal have not yet been released.
Former director general of the UK Border Force, Tony Smith, said a joint British-French command structure would allow authorities to gather much more intelligence on people smuggling networks.
However, former Home Office minister and Ashford MP Damian Green said the causes of migration needed to be tackled, as well as practical measures to "keep the roads running".
"Particularly countries that aren't torn by civil war but just have desperate economic conditions, you can help them, that's the root cause of the problem."
Asylum applications up
The situation in Calais is part of a much larger migration issue in Europe.
More than 240,000 migrants have crossed the Mediterranean already this year, arriving on the shores of Greece and Italy.
Germany and Sweden have seen a sharp rise in asylum applications, with the German government saying it expects 800,000 applications by the end of this year.
Madeleine Sumption, director of the Migration Observatory at Oxford University, told BBC Radio 4's Today programme that compared to 200,000 asylum applications in Germany last year, the UK had just over 30,000.
The UK government faced challenges from a policy perspective in trying to distinguish between illegal immigrants and asylum seekers, and "there won't be a 100% success rate", she said.
Migrant crisis
Thousands of migrants who are camped in Calais are attempting to reach the UK by crossing the Channel
Eurotunnel has described "nightly incursions", with sometimes hundreds of migrants attempting to breach security at once
French authorities estimate there are about 3,000 people currently living in the camps known as "the Jungle", although other estimates put the number higher
The Calais Chambers of Commerce has responsibility for the security of the port. Last autumn the UK government pledged £12m over three years to help France tackle the problem
The situation in Calais is part of a wider migration crisis in Europe – caused largely by people fleeing war and oppression in countries such as Syria, Afghanistan, and Eritrea
Read more: Why is there a crisis in Calais?