7 August 2015

From the section

Africa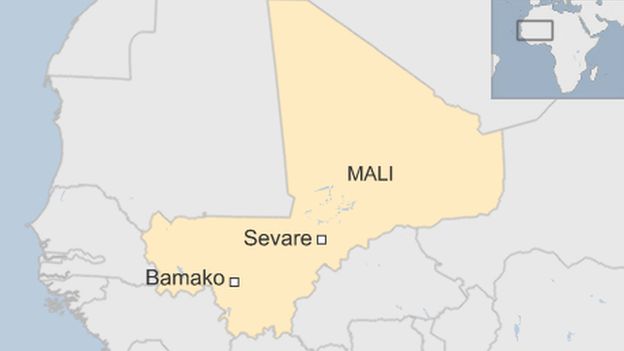 Gunmen on motorbikes have attacked at least two hotels in the central Malian town of Sevare, witnesses have told the BBC.
Residents are now hiding in their homes and it is not clear if there have been any casualties.
"We heard someone shouting into a loudhailer that everyone should go inside. Then we heard machine guns," one resident said.
Sevare has an air force base and some UN peacekeepers are in the town.
The BBC's Alex Duval Smith in Mali says the town, which is about 600km (370 miles) north-east of the capital, Bamako, is the trading hub that serves the historic riverside city of Mopti.
Martine Latraye, owner of a small guesthouse in Sevare, told the BBC that the attack started at about 07:30 local time (07:30 GMT).
There are several hotels near each other in the town and it is not exactly clear which of these were targeted.
The BBC has learned that guests from France, South Africa and Ukraine are staying in the hotels.
Another resident, who did not want to be named, said the gunmen seemed to be targeting the air force base and the hotels.
"Now the Malian army is here. The soldiers are surrounding the Byblos hotel but we don't know why," he said.
"I have heard machine gun fire but also some much heavier artillery."