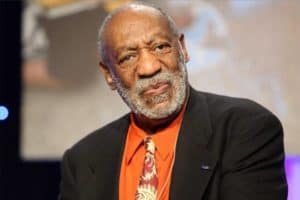 Bill Cosby was arrested this past Wednesday on three second-degree felony charges of aggravated indecent assault for allegedly drugging and sexually assaulting a woman over a decade ago, in 2004.  The 78-year-old Cosby faces up to 10 years in prison on each count if convicted.
Ordinarily the names of victims of sexual assault are withheld from news accounts to protect their privacy, but the woman in this case filed an affidavit with the court, effectively releasing her name– and identity– into public documents.
Andrea Constand, who first brought charges against Cosby in 2005, was named as the victim in the affidavit.  According to the account detailed in that document, Constand met Cosby through her work at Temple University in Philadelphia and had "what the victim believed to be a sincere friendship."
By the time their relationship began, Cosby was an American icon, celebrated for his role as Dr Cliff Huxtable in the beloved 1980s sitcom The Cosby Show.   Cosby soon garnered the title of "America's Dad," for his portrayal of the wholesome Huxtable character.
But dozens of women have since publicly claimed that for decades, Cosby was drugging and violating women– allegations that have been heavily debated on social media and in the public forum.  The most often posed question is: if true, why wait for decades to complain?  Unlike the others, Constand first complained the year after the alleged incident, but no action was taken by law enforcement officials.  It is because of her 2005 complaint that the arrest this week is still timely. She is the first alleged victim to have her allegations of sexcual misconduct officially supported by a law enforcement body.
In the affidavit, Constand said that Cosby made two sexual advances towards her while she was at his home.  The third time he made advances, she was under the influence of three pills and wine.   She says she thought the pills were herbal, but that after taking them she soon became dizzy, but remained aware enough to know that Cosby was fondling her and penetrating her with his fingers.
Cosby's attorney, Monique Pressley, released a statement late Wednesday, saying a sexual assault charge was "unjustified."  She said Cosby will be exonerated.