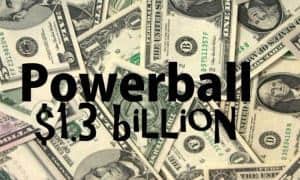 No winning ticket in yesterday's drawing means the $900 million jackpot now stands at $1.2 billion.   By the time of the next drawing next Wednesday the prize is expected to have reached $1.3 billion– or more.  The  winning numbers were 16-19-32-34-57 and Powerball number 13.
We've all heard the odds of winning the largest prize in U.S. lottery history are one in 292.2 million.  Not that it matters, but those odds should not change much for the next drawing, since the calculation is based on the number of possible combinations there are.
$1.3 billion would be twice as large as the biggest previous U.S. lottery prize from March 30, 2012, when Mega Millions paid $656 million to three winning ticketholders from Illinois, Kansas and Maryland.  It would more than double the largest Powerball payout in Florida– $590.5 million paid in May 18 of 2013, to one winner.
The largest lottery prize ever was Spain's Christmas lottery dubbed "El Gordo," or "the fat one," which paid $2.4 billion.