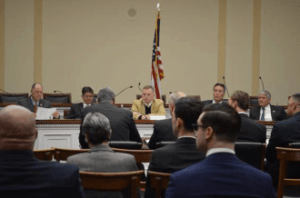 WASHINGTON, D.C. – Congressman Tom Rooney (R-FL) was joined today by a bipartisan group of his House colleagues along with a panel of scientists, USDA experts and industry members for an in-depth discussion on research gains being made in the fight against citrus greening.
State researchers and USDA experts spoke to a hearty audience on the creative and innovative techniques they have developed to faster detect greening in trees and how to better to treat these trees once they are identified as diseased. Experts pointed out how crucial federal funding has been to fill the gap between the research done in labs and success growers have in groves. This funding, they noted, has been essential in keeping the industry alive while research gains are made and until, ultimately, a cure can be found.
After listening to their findings, Rooney was optimistic for the future of America's citrus industry. "It is my hope," he said, "that by working with all of you, we can get to a point where we may not have a cure, but we can manage greening in a way to make it worthwhile for someone to be a citrus grower."
Rooney was joined by an impressive group of citrus minded Members – his Floridian colleagues Rep. Bill Posey and Rep. Dennis Ross in addition to Rep. Mark Takano (D-CA) and Rep. Filemon Vela (D-TX). In closing the event, Rooney noted that it is because of this bipartisan nationwide cooperation that such significant strides have been made in combatting greening.