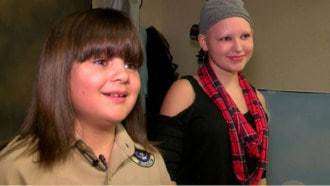 Tyler Boone is 10 years old and has been growing out his hair for two years in order to donate a wig for his friend. Boone has braved bullies and tangles to grow out his locks, and his efforts finally paid off right after the new year began.
With hair falling past his shoulders, Boone went to Florida to get a long-awaited haircut and to see his friend Gabby Ruiz. Ruiz was diagnosed with alopecia-areata when she was four years old. The disorder has prevented her from growing hair, hence the need for a realistic wig. Gabby is 12 now, and finally has the means to get her own custom wig thanks to her friend Tyler.
Approximately 21 million women in the U.S. are currently experiencing hair loss, but even so, a diagnosis of alopecia-areata at such a young age is something of a rarity. Gabby has undergone many different hair loss treatments for her condition, but she hasn't been able to grow any hair.
Ruiz and Boone have been friends for many years even though they live hundreds of miles apart. After learning that his friend still couldn't grow her hair, Tyler decided he could do something about it. When asked about his decision, he wisely said, "Well, it's just hair, I can grow hair."
He's been mistaken for a girl several times thanks to his long locks, but he wouldn't let anything stop him from creating a beautiful wig for his long-distance friend. He even said he was used to the hair when the time came for the big haircut.
Boone's final hair measurement came in at 12 inches. After being measured and taking plenty of pictures together, Boone and Ruiz stepped into the hair salon to make the cut. After 45 minutes in the styling chair, Boone came out sporting a brand new buzz cut and a sizable donation to Children with Hair Loss, a nonprofit which will make Gabby's custom wig.