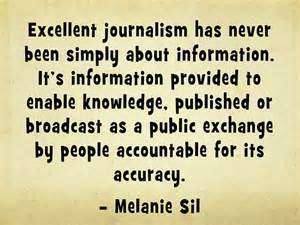 In the early days of his presidency, Donald Trump has called journalists the "enemy of the American people" (twice), assailed unflattering reporting as "fake news" and brought aboard a press secretary who's shut news organizations out of a briefing.
It's behavior that has press freedom organizations across the United States worried. So, they're working together to do something about it.
Later this year, a coalition of organizations including the Committee to Protect Journalists, the Freedom of the Press Foundation, the Reporters Committee for the Freedom of the Press, the Knight First Amendment Institute at Columbia University and the Index on Censorship will launch an as-yet unnamed news site to track press freedom violations in the United States. The site will not only track incidents spurred by the Trump administration, but his election and anti-press rhetoric was a major catalyst in its founding.
The site, which is slated to launch sometime in the next two to three months, will have one full-time reporter and feature research and analysis from the partner organizations. CPJ is funding the reporting position (they're fresh from a fundraising bump), and the Freedom of the Press Foundation is contributing the site's development work.
The project was conceived at a meeting of those organizations about a month ago, said Trevor Timm, the executive director of the Freedom of the Press Foundation. They discussed the lack of a comprehensive database for "press freedom incidents" in the United States — arrests of journalists, border security shakedowns and equipment confiscation.
"There is not a repository for all of this information gathered in a comprehensive way that can give the American public a detailed picture of how press freedom looks in the country from one year to the next," Timm said.
By way of example, Timm cited the arrests of several journalists who covered Inauguration Day protests. The listing for the reporting position tasks the new reporter with "documenting all journalist arrests, border stops, equipment seizures, leak prosecutions and other categories of incidents that violate the rights of journalists in the United States."
1-855-621-3225
The site, which will also have a social media presence, will not feature advertising, Timm said. Instead, the organizations who share responsibility for the site will raise money for it "the way that nonprofits normally raise donations."
When the reporter is hired at the end of April, she or he will begin making the site "a one-stop shop" for data and alerts about U.S. press freedom, Timm said.
"We have the First Amendment, and we're supposed to have the free-est press in the world," Timm said. "If these crackdowns take place, we want to make sure they're broadcast loudly to the American public so they know what's going on."