In July, 2016  North Miami police officer Jonathan Aledda shot an unarmed therapist as he was trying to care for his client on a public street.  The shooting unleashed a storm of criticism at the North Miami police department after a video of the incident showed that therapist Charles Kinsey was lying flat on his back with his arms raised high when he was shot.  Kinsey survived.
Aledda was one of at least three officers responding to 911 calls about a "possibly suicidal" man with a "silver weapon in his hand" when they encountered two men, one who fit the individual's description.   The man in question was a resident of the Miami Achievement Center for the Developmentally Disabled.   He had walked away from the center and Kinsey was following him, trying to talk him into going back.   The resident was reportedly holding a silver toy truck in his hand.
When police arrived, both men were ordered to the ground.  Kinsey complied and attempted to get his client to do the same.  The client sat down in the street and began playing with the toy truck, seemingly oblivious to the danger.  Kinsey was lying prone on his back with this hands raised in the air making it clear he was not armed.  He repeatedly told officers the man was developmentally disabled and that he was the man's therapist.  He repeatedly told them the man had a toy truck in his hands and not a weapon.  He pleaded with officers not to shoot.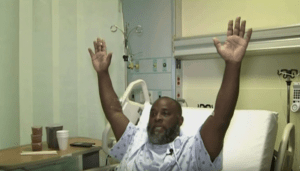 Suddenly and without warning three shots rang out.  One struck Kinsey in the leg.  The other two missed both men.  Aledda, who was more than 150 feet away had fired on the men even though the other two officers who were much closer– about 20 feet away–  never fired a shot.
North Miami Police Chief Gary Eugene was interviewed by Florida Department of Law Enforcement investigators as part of the incident investigation.  Eugene said he listened to the recording of the radio communication between the officers as it took place that day and in it he heard Aledda say he had a clear shot at the men.  According to Eugene, the sergeant on the scene told Aledda that there was no weapon, and to stand by.
On Tuesday Officer Aledda, who is also a member of the department's SWAT team, was formally charged with attempted manslaughter in the July 18, 2016 shooting.
Read more here.