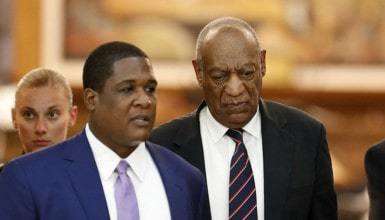 Hopelessly deadlocked.  The jurors who heard the Bill Cosby sexual assault case say that after 6 days of deliberation they cannot come to a unanimous decision on the comedian's guilt or innocence.
On day 5 of deliberations, the juror told the judge they were unable to come to a unanimous decision, but the judge sent them back with instructions to try and come to an agreement on either conviction or acquittal.  After one additional day of deliberating the jury again told the judge they could not reach a unanimous decision, and the judge realized it was pointless to drag the matter out any further.
The judge told both sides that "a mistrial is neither vindication nor victory for anybody."
But in reality, any decision (or non-decision) that keeps the man who was once called "America's Dad" from a sexual assault conviction in this case of "he said, she said" is a victory for the defense– even if only temporary.
Cosby was charged with drugging and molesting Andrea Constand over ten years ago.  Today's mistrial means prosecutors will have to try the case over again if they still believe they can win.
Delores Troiani, one of the prosecutors on the case, acknowledged that winning a conviction will be difficult,  given the amount of time that has passed and Constand's inability to recall details about that day.
Constand testified that Cosby gave her pills that made her woozy and then penetrated her with his fingers as she lay paralyzed on a couch, unable to tell him to stop.  Cosby did not testify but has maintained that the encounter was consensual.
Bruce Castor, the ex-prosecutor decided not to prosecute Cosby back in 2005, said Constand's case was simply to weak for her to prevail.  After the mistrial was declared he told reporters:  "My opinion continues to be that Ms. Constand was probably the victim of a sexual assault, [but] 'probably' does not win criminal trials."
If the state decides to retry Cosby, Troiani says her client is ready to testify again.
"She's a very spiritual woman, she believes things happen for a purpose, and I think the purpose is … it should encourage other women to come forward and have their day in court."
Camille Cosby, married to Bill for 53 years had choice words for the prosecutors and the judge, calling the prosecutor "heinously and exploitively ambitious," and the judge "overtly arrogant, collaborating with the district attorney."
The Advocate's policy is to not disclose the names of victims of sexual assault, but in this case Ms. Constand publicly identified herself.