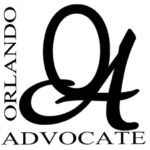 The Advocate's mission is to expose discriminatory and unfair treatment in both private and public sector markets, and provide information designed to foster awareness, build community and empower blacks and other ethnic minorities, immigrants, young people, the elderly and other marginalized groups so that they can more effectively influence law- and policy-makers. We do this through the presentation of timely, relevant and informative news stories, points of view and editorials.
We published our first issue on November 17, 1993, with a firm belief that investigative journalism was critical to the needs of our local community, and that by exposing corruption through the power of investigative journalism we could actually be an impetus for reform.
Our investigative journalism led over the years to federal investigations into the possible misuse of federal construction dollars in neighborhood redevelopment, and documented instances of patient abuse at the local VA Hospital before it was shut down and relocated. That series earned a surprising level of attention. The wife of one of the patients called to thank us for the series, and advised she had been contacted by the White House and told that the President had seen the story and extended his apologies, saying "this is not the way we treat our veterans."  Indeed.
We uncovered and chronicled the heart-wrenching story of the Moores– an elderly couple whose land was stolen from them by an unscrupulous relative who forged their names on a deed of transfer and sold to Universal Studios for a million dollars.
In another series we proved with the assistance of a professor at the University of Central Florida that the official account of a woman's alleged suicide in an International Drive hotel was not scientifically possible, and disclosed an attempt to keep criminal activity in the tourist area out of the news.  We stay with a story as long as it takes to uncover the naked truth.
We cover a wide range of topics including government and politics, business & technology, criminal justice, the environment, education, health care and immigration.  Our stories have led to prestigious awards for hard-hitting investigative journalism.  We were twice named Media of the Year by the local African American Chamber of Commerce, in 1995 and 1996; Media of the Year in 1995 by the U.S. Department of Commerce; and Media of the Year by the National Department of Corrections in 1997.
We began our online presence in 1995, and we continue to strive to create a visually appealing and content-rich website that chronicles the experiences of being black in America, with all of its challenges and appeals.  We urge you to interact with our website.  Your comments are appreciated.   They let other readers know you stopped by.